Following a challenging 2022 for global investment markets, the first 6 months of 2023 provided some welcome respite.
All 5 of our BA Core Portfolios generated a positive return so far this year as shown in the chart below: –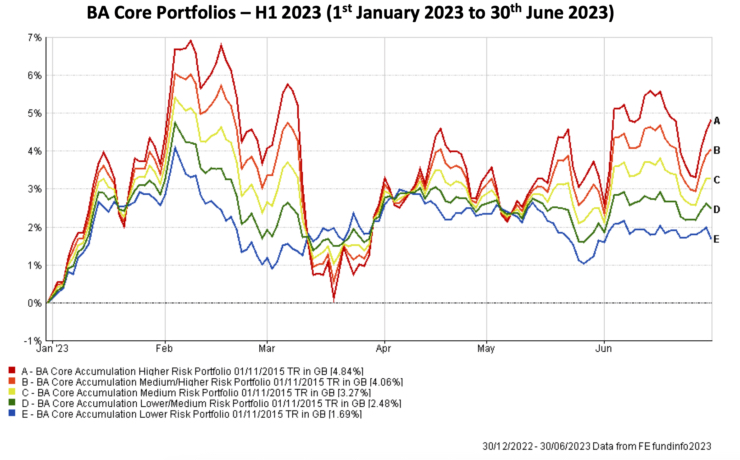 In addition to the overall asset class performance, our above portfolios have continued to outperform their relevant industry benchmarks. This can be demonstrated by the chart below which compares our medium risk multi-asset portfolio to the AFI balanced industry benchmark.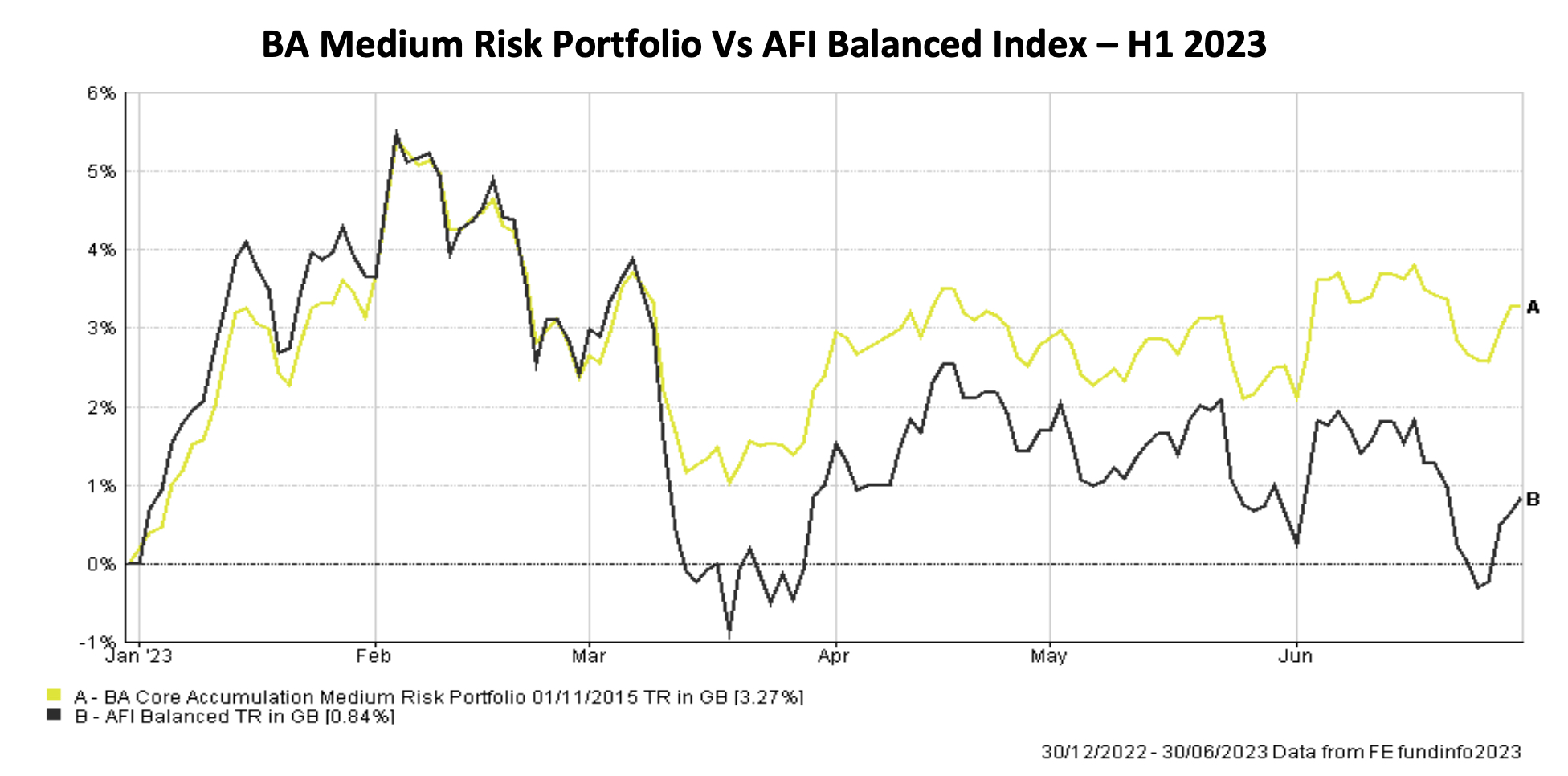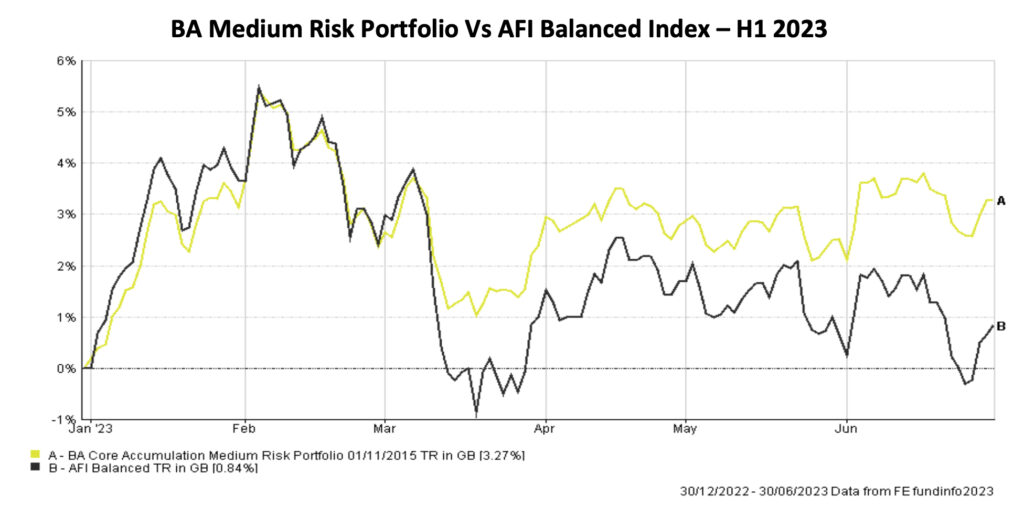 The following is an update of all our BA Core Portfolios relative to their respective target return and industry benchmarks: –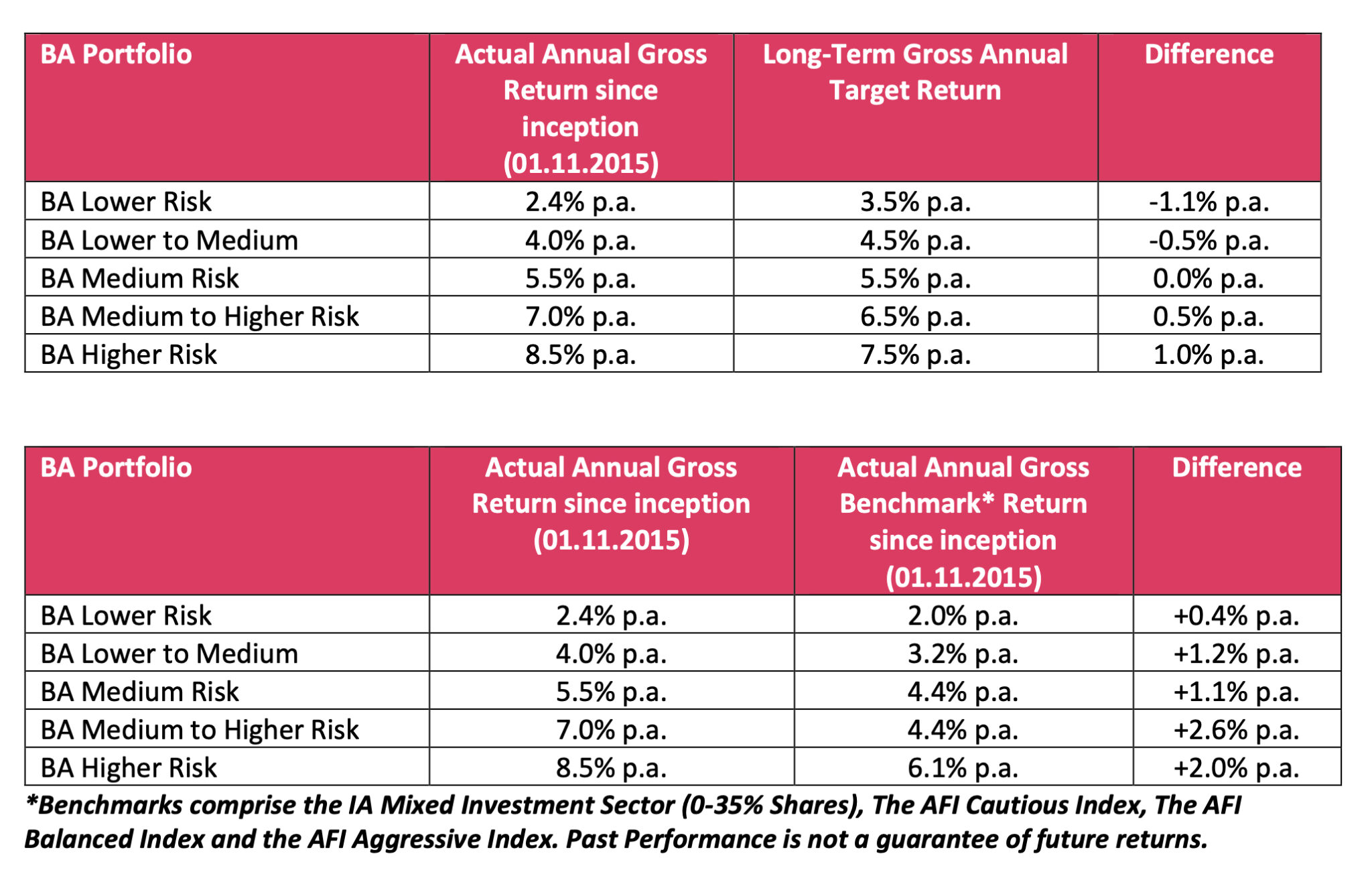 Although we have seen positive returns from our portfolios in the first 6 months of 2023, volatility is likely to remain high as Central Banks continue to fight inflation through further interest rate increases. The impact of these interest rate increases cannot by underestimated. This is especially true here in the UK, where evermore fixed rate mortgages are coming to an end, leaving many borrowers with difficult decisions about meeting the significantly higher borrowing costs. Unfortunately, the speed and level of the interest increases makes a recession more likely in the coming months.
This outlook is understandably gloomy, especially when the UK finds itself right in the eye of the inflation storm. However, it is important to note that not all parts of the world are facing as big a challenge as the UK. For example, the US, where most borrowers have 30-year fixed rate mortgages are more insulated from dramatic interest rate increases. The current inflation rate in Japan (3.2%) is much lower than the UK and consequently attracting more interest from international investors. The point is by having a diverse global investment portfolio as represented in our BA Core Portfolios, you can benefit from growth areas in other parts of the world, even when the economy here in the UK is not looking great.
If there are any aspects of this update that you would like to discuss in more detail, please get in touch.
Healthcare Cash Plan: What They Are and Why They Work Previous post
The Psychology of Money Next post