It all begins with the budget.
Whether grocery shopping or buying a luxury car, knowing what money you have available towards the purchase is the most fundamental element of the process. You can get that information by doing a basic budget plan. But the benefit of budgeting goes much further than that.
By carefully considering what your outgoings are, and understanding your spending habits, you have the ability to move from impulse spending encouraged by adverts and consumerism into mindful money habits that align with your needs, wants, goals, interests and dreams. This is how to can get to the bottom of how to make your money work for You. 
In our latest video, Dave Sykes reviews the basics of setting a budget and provides a few techniques for following it through. From tracking to accountability to consistent review, financial planning is a marathon not a sprint.
After all, it's not making the plan that makes the biggest difference. It's sticking to it.
Practice the Art of Budgeting
To get started with your budget, download our free budget planner. It outlines the various things you may spend money on, helps you track them each month and compare them to the money you have coming in. Knowing your habits and impulse purchase points is the beginning of the journey into having a financial plan. Using this budget planner will help find that information out.
Once you have gathered the information you can then put into practice better spending habits that both allow you to stick to your budget, and potentially maximise your incomings in a way you have not been previously doing. 
When you're ready to take your plan to the next level, reach out to our fantastic financial planning team. Their expertise and empathy make them some of the best in the business.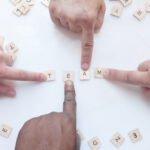 Meet the Team Member: Chris Layzell Previous post